Asphalt 8: Airborne Apk Latest Version
Download Asphalt 8: Airborne APK v3.7.1a. Asphalt 8: Airborne has more than 100 million downloads on Google App store as of 2018 and it is highly popular in racing games and one of the earlier games we posted on our website. The best Android arcade racing game series reaches a new turning point! Perform dynamic, high-speed aerial stunts in an intense driving experience powered by a brand-new physics engine!
LUXURY DREAM CARS
56 high-performance cars (80% of them NEW!)
Top licensed manufacturers and models like Lamborghini Veneno, Bugatti Veyron, Ferrari FXX and Pagani Zonda R
Newly recorded high-fidelity car motor sounds for realistic audio immersion.
GET AIRBORNE
Hit the ramps and take the race above
Perform barrel rolls and wild 360º jumps
Maneuver through the air, pulling stunts while racing
NEW EXOTIC LOCATIONS
Race in 9 different settings like Venice, French Guiana, Iceland, the Nevada Desert and other exciting locations!
All tracks available in original and mirror variations in Career mode.
Discover plenty of hidden shortcuts
NEW FEATURES FOR SPEED FREAKS
8 seasons & 180 events in Career mode
Stunning visuals thanks to next-gen shaders, real-time geometry reflection & other amazing effects for a new simulation of speed!
A detailed damage system like nothing you've seen before
Check out the new Infected and Drift Gate game modes
SIMULTANEOUS MULTIPLAYER & GHOST CHALLENGES
Simultaneous multiplayer action for up to 8 real opponents!
Dare friends to asynchronous races in your favorite cars
Compare scores on the new leaderboards with friends and drivers around the world
Share your racing achievements and prove that you're the ultimate speed machine.
MUSIC TO REV YOUR SOUL
A heart-thumping mix of amazing licensed music for your game
Featuring real tracks from Bloc Party, Mutemath & The Crystal Method!
A game for fans of extreme arcade racing, with real dream cars and phenomenal graphics that will also please racing simulation enthusiasts. Asphalt 8: Airborne is now MOGA Enhanced! Available at major retailers, carrier stores and online on the MOGA anywhere website.
Asphalt 8 is one of the most popular games of the developer Gameloft. And yes it is free. Just download apk file to your Android phone and install from there or download from Play Store.
Images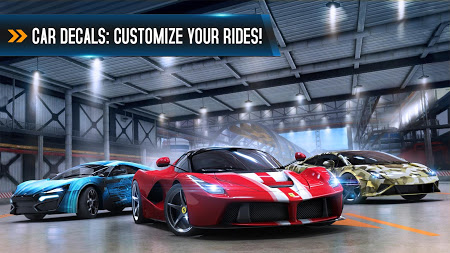 WHAT'S NEW
Summer is heating up the asphalt!
ASPHALT MOMENTS
Experience classic Asphalt 8 events and rediscover racing history for all-new prizes!

PORSCHE 70TH ANNIVERSARY
Celebrate the carmaker's 70th Anniversary by driving the brand's legendary vehicles, including the Porsche 911 GT3 RS.
HOT SUMMER, HOTTER CARS
Get a taste of sunshine from the Rimac Concept S, Sbarro GT1 and the Rezvani Beast Alpha

SPECIAL EVENTS SERIES
Hop onto the seat of Asphalt's greatest supercars in our Special Events Series!
USER REVIEWS/OPINION:
As one of my most used games, it is easy to learn, fun to perfect and hard to master. Hours of gameplay with plenty of challenges and daily events to add some variety to it's basic gameplay.
BEST GAME THAT HAVE EVER EXISTED ON PLANET EARTH! It's highly addictive. I have only been playing it for a few days and I'm addicted to it.. I would play it every single day!! Can't wait for asphalt 9 to come out. I bet it's gonna be even better..
Asphalt 8 Apk file information:
By:Gameloft – Website Type: Game Category:Racing Current version: 1.9.1b Updated: 24.07.2015Price: Free Language: English Size: 37.95 Mb
You are going to download com.gameloft.android.ANMP.GloftA8HM.apk (37.95Mb)
Asphalt 8: Airborne 1.9.1b is a Free Racing Game, to download Asphalt 8: Airborne 1.9.1b Apk file with direct link, please use the following links

OLDER VERSIONS of Asphalt 8: Airborne apk
Download Asphalt 8: Airborne apk Latest Version
Package name: com.gameloft.android.ANMP.GloftA8HM
Version: 3.7.1a (37120)
File size: 91.6 MB
Updated: July 5, 2018
Minimum Android version: Android 4.0.3 (Ice Cream Sandwich, API 15)
Download Asphalt 8: Airborne 3.7.0m APK
Package name: com.gameloft.android.ANMP.GloftA8HM
Version: 3.7.0m (37032)
File size: 91.9 MB
Uploaded: June 20, 2018
Minimum Android version: Android 4.0.3 (Ice Cream Sandwich, API 15)
Download Asphalt 8: Airborne 3.6.1a APK
Package name: com.gameloft.android.ANMP.GloftA8HM
Version: 3.6.1a (36120)
File size: 91.6 MB
Uploaded: May 30, 2018
Minimum Android version: Android 4.0.3 (Ice Cream Sandwich, API 15)