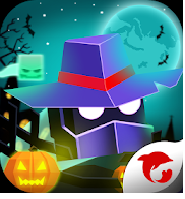 We present you the Adventure Portal – your entrance to the far lands of the Will Hero world, filled with fascinating adventures, new dangers and priceless treasures!
Will Hero is an arcade, action, platformer and rogue-like in one game.
This is an exciting adventure, in which you can dive in any place and at any time!
When Princess gets in trouble, a REAL hero turns into unstoppable maul and makes his way with bombs, kicks and axe.
Make a tap to perform a dash, evade or attack.
Master a sword, push your way through with hefty kicks, bombs, throwing knives and axes.
Improve weapons by increasing their lethal force.
Build a high tower, open a lot of devastating combat spells.
Find dozens of helmets for your hero, among which there are brutal helmets: knight, prince, crusader, viking, dragon; and cute: Cat, Dog, Unicorn, Panda, Raccoon, Chicken, Hog and many, many others.
Explore dungeons and different game worlds.
Find rare and legendary chests containing unique helmets.
Will Hero is not just a timekiller, it's an exciting arcade, action and platformer, which can be played with only one finger.
The game works without the Internet, it is enough to download and it will blow your mind.
Play anywhere and anytime!
Compete with friends and become a hero!
WHAT'S NEW
Boo! Stock up with clean panties, because we have prepared for you a terribly exciting Halloween update!
– Ghostland – new adventure await for you in Portal. Fight with ghosts and don't let the Reaper catch you!
– 4 new helmets are waiting until you find them in a Ghost Chest
– Scythe and Stakegun – new weapons that will help you to slain the evil.
User Reviews/Opinion:
Its so difficult to play this rage game the stupid winmills get in your way and the bombs they place all over the map dont help eather and when you die twice after you die once you cant try one more time there has been soo many times ive been close to the end and get get by those stupid enemies
I think sometimes I get too much ads in a short period of time but that's no real worry. I find it hard to see z game wen it cycles to night. Hard to see which type of orcs there are and spotting tnt is among other things gets difficult. I like z cycle but dimming the brightness no likey. Great game though. Challenging and very fun. I do enjoy the portal aspects too. Great great game. GG
This is a very great game I would recommend playing it if you don't it's a no Wi-fi game so if you play with a Wi-Fi in my glitch little bit but other than that is very fun to play I'm very addicted and it's a great time killer for other stuff I played it doesn't take up your battery that much and it's really good so my review is five stars great
Will Hero 1.3.1 FILE INFORMATION
Version: 1.3.1 (62)
Package: com.zplay.willhero
File Size: 61.61 MB (64,604,044 bytes)
Min:
Android
4.1 (Jelly Bean, API 16)
Uploaded: 
October 24, 2018 
DOWNLOAD Will Hero 1.3.1 APK
Old Versions
Package: com.zplay.willhero
File Size: 58.99 MB (61,858,144 bytes)
Version: 1.2.1 (58)
Package: com.zplay.willhero
File Size: 59.06 MB (61,931,055 bytes)
Uploaded: 
August 31, 2018