Download AutoRotate Switch 1.7 APK  for your Android Mobile, Tablet OR any Android device from AndroidFreeApks.com with direct link.
The 1st non-widget AutoRotate app that got 100k-500k downloads! Thanks all users!
Switch Auto-rotate feature on/off quickly. Put it as a shortcut in the home screen or long-press search button to run it.
>>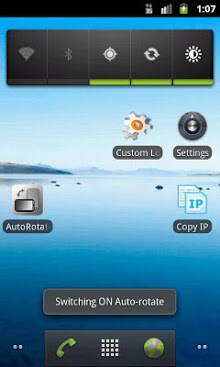 AutoRotate Switch Apk file Information
File name:kennethcheng.com.autorotate.apk
Version:1.7
Uploaded: August 14, 2016 at 1.30PM GMT+00
File size:16k
Minimum Android version:1.5 and up
App Developer:Kenneth Cheng
Download AutoRotate Switch 1.7 APK:
Download AutoRotate Switch  1.7 APK –16k
Older Version of AutoRotate Switch APK